Marvel Ultimate Heroes is a Marvel comics character pack released in 2008.
It features 28 Marvel heroes and two villain cards advertising a Marvel Ultimate Villains pack on the back of them.
Rumours that two extra hero cards would be included in the forthcoming Marvel Ultimate Villains set (to make a complete deck of 30 heroes) were proved to be unfounded; there was some slight disappointment among fans with the absence of popular favourite The Silver Surfer.
This pack was revamped with a new title card design and a light blue case for its 2011 re-release, replacing Toad and Juggernaut with Ant-Man and Luke Cage.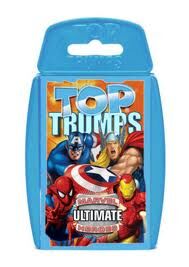 2011 repackage
Card List
[
]
Black Widow
Blade
Captain America
Cyclops
Daredevil
Dr. Strange
Elektra
Gambit
Ghost Rider
Human Torch
Invisible Woman
Iron Man
Jean Grey
Juggernaut (Villain) (Replaced with Luke Cage in 2011)
Mr. Fantastic
Namor
Nick Fury
Nightcrawler
Professor X
Punisher
Rogue
Spider-Man
Storm
The Beast
The Incredible Hulk
The Thing
Thor
Toad (Villain) (Replaced with Ant-Man in 2011)
War Machine
Wolverine
See Also
[
]
External Links
[
]